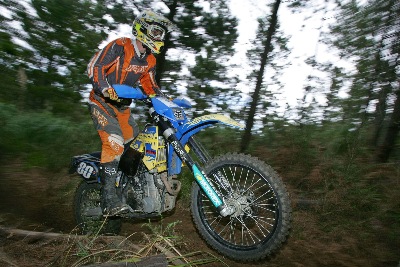 Karl Power & Husaberg claim second outright at NZ Enduro Championship After claiming the 400 four stroke class at the penultimate round of the NZ Enduro Championship, Husaberg rider Karl Power has backed it up with another class win at the final round held at Woodhill. The Auckland based rider put in a strong performance on his Husaberg 450 FE, accumulating enough points to also finish the overall series only two points off Chris Birch for the outright lead. Commenting on his racing Karl Power said, "To take the 400 four stroke class win and then also only finish two points off Chris Birch for outright is a really satisfying result for me. "Woodhill is a sandy based track so staying up right can be difficult. The course was 140kms and four out of five special tests were good for me. "During one special test I was going great until I came up to three logs and crashed over them, which cost me 10 seconds in time. I also lost my rear brake half way through the fourth test, but once I changed my brake fluid I had no further problems and was back into the race. "The Husaberg 450 FE handled well in the sand, especially with the great suspension setting from ProRide Suspension. All up it's being a great season for me with the Husaberg and I look forward to putting more pressure on Birch for next season to hopefully take the outright win." Karl Power will next race this weekend for the Hawkes Bay six hour cross country race, where he will team up with KTM rider Jason Davis. Racing results will be posted at www.husaberg.com.au Media Enquiries: Lizzie Doyle PR/Media Husaberg Tel: + 61 2 43826621 Mbl: 0411 414 231 Email: lizzie.doyle@pnc.com.au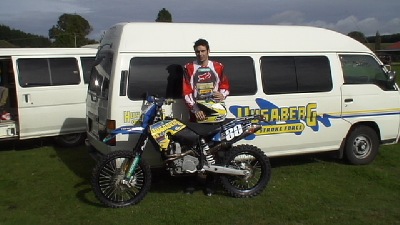 For the 2008 season Karl has moved onto a KTM250EXCF with ProRide Suspension again setting up the bike for Karl's season of Enduro and GNCC racing both in New Zealand and Australia.
Unfortunately for Karl not long after recovering from his broken ankle sustained last year in a freak accident on a new bike which malfunctioned he came up short on a jump at his practice track and cased his bike and went over the bars, breaking his knee braces and injuring his knee ligament requiring an operation and another 3 months of the bike.
Karl was showing promising results with his new suspension setup and we hope to return to wining form once Karl is fully recovered.