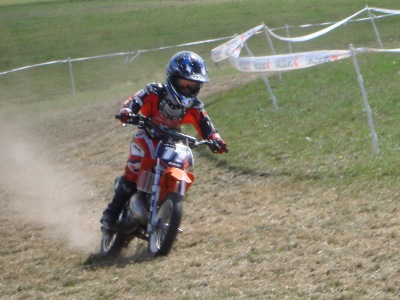 We first started working with Jake Wightman in 2006. At only 25kg we observed that the rear end on Jakes SX50 was just too stiff for for him and we went inside the shock and revalved the compression and rebound damping. Being an emulsion shock on the SX50 the oil that came out was like black swamp mud! We did some testing with Jake and came up with some recomended settings to use at various tracks and terrains.
Jake was also complaining of headshake so we went inside his forks and adjusted the preload settings and oil levels and weights. The standard settings were totally unsuitable! Jake was only using 75% of his forks travel and with changes we managed to get Jake using almost all his available travel and the headshake was gone.
Once Jake put on a few more kilo's we fitted some Race Tech Gold Valve Emulators. These transformed Jakes bike and his confidence increased and suddenly Jake was challenging amongst the top three riders in his class.
Over the next year we gradually increased Jakes oil level and the preload on the Emulator spring to enable Jake to get the most out of his SX50's suspension. We also moved the position of the shock to allow for Jakes increase in height.
But Jakes Dad had bought Jake an SX65 and it was time to start dialing that bike in for 2008.